Content
The Pad Section Of The AKAI MPD218
What's the AKAI MPD218?
The AKAI MPD218
is the brand new entry-level Pad Controller by AKAI Professional. It's the smallest pad controller of the MPD2-series which consists of three pad controllers. It also has the most limited set of features of the three devices. This doesn't mean, however, that the AKAI MPD218 is a pad controller not worth considering for finger drumming. Quite the contrary: it is a great pad controller for finger drumming, and in this article, I will explain why.

Nothing on the new AKAI MPD218 reminds me of its predecessor – the MPD 18
– and I mean this in the most positive way. The pads are thick, solid, back-lit, and velocity- and pressure-sensitive; plus, the device itself has a modern finish. The housing is slim and the knobs are appropriately small. AKAI has drastically changed the layout and made it so much better. The device now comes with six endless encoders (knobs) and has sixteen preset slots. Each preset contains three banks for all sixteen pads and separated from the pad banks each preset contains three banks for all six knobs. This means that you can store three pad layouts and three encoder settings per preset.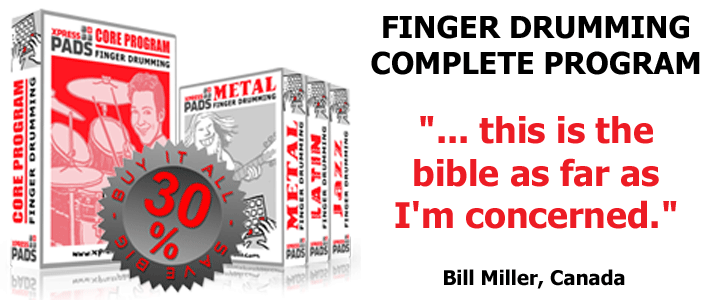 Owners of an Apple mobile device can connect the MPD218 via a "camera connection kit" which is sold separately.
The Pad Section of the AKAI MPD218
Pad sensitivity is THE most important aspect of a pad controller if you want to use it for finger drumming… and what can I say?! The pads of the MPD218 are amazing! On AKAI's website, I read that the pad section is actually taken from the MPC, which was the best they could do. These pads are thick back-lit rubber pads that feel great when you hit or just touch them and their sensitivity is really IDEAL. Usually, when I unwrap a new pad controller and connect it to my computer, I have to do a couple of tweaks in order to get the pad sensitivity just right. That is not so with the AKAI MPD218: here, I just had to connect it, program the XpressPads finger drumming layout on it, and I was able to start playing. The pad sensitivity didn't need to be tweaked at all!
I think I have pretty regular hands – not too strong and not too weak—just average. I believe AKAI has conducted ample research to find that pad sensitivity "sweet spot" which will suit many people's hands. The default pad sensitivity setting lets me control all my different playing techniques. If I want to play soft notes then the pads are suited for this by default. If I want to play high-velocity notes then the pads are suited for this as well; I don't need to hit the pads overly hard in order to achieve that. Any velocity that I want to play in between those extremes isn't a problem either. And that's what I mean when I say that I think that the pad sensitivity is ideal. I didn't need to change anything in terms of pad sensitivity. The default setting just perfectly fits my hands and fits the way I use to hit pads with my fingers.

Even though my experience was mostly positive, there are three considerations that I want to present:
I notice some unintended pad triggering every now and then. This means that a pad triggers a sound even when the pad itself isn't hit. This occasionally happens while I hit other pads. It doesn't seem to be one or two pads that constantly misinterpret hits. It seems to happen randomly on different pads. While this may sound like a big issue, it's actually not a huge problem when playing because the notes triggered unintentionally are low-velocity notes and because this happens only rarely. It might be the tradeoff for having made the pads so sensitive, which as I mentioned is actually a big plus for this device.
The pad surfaces are dust-magnets. After getting my AKAI MPD218 I played for a few hours on it that first day, and when I finished, the device didn't really look new anymore. It was because the pads looked dusty (even a bit dirty); of course, while playing any instrument, the fingertips, over time, lose tiny skin particles. However, none of my other many pad controllers so clearly show this as the AKAI MPD218 does. Still, this isn't really a big issue. If you want to see the positive side of it, try this attitude: Your MPD218 will always show you how much you played on it… and reveal just how long you left it untouched.
I did not find an option to alter the velocity sensitivity from a hardware or software standpoint. While I personally don't need to do so, some buyers might. The MPD218's default velocity sensitivity setting is perfect for me, but what if someone doesn't have average hands?
Additional (free) Software
The AKAI website states that the software package that comes with the AKAI MPD218 is worth US$ / € 400. I was confused by that statement as it is sold for just US$ / € 99. So, I had to take a closer look at the software package… and what can I say?!
The free software package is tremendous! It might appear obvious that AKAI has added their "MPC Essentials" groove production suite to the package, but to be fair: It's a valuable tool with which to start making beats and music. "Ableton Live Lite" is the next entry-level music production software that is shipped with the AKAI MPD218, and with this piece of software, performing and producing music at an entry-level can be fun.
While it is almost standard these days that MIDI controllers are sold together with Ableton Live Lite and some in-house-produced software, it is not common that MIDI controllers are sold with a full version of a virtual drum sample library and a percussion sample library. In the case of the AKAI MPD218 it is SONiVOX's "Big Bang Universal Drums" and "Big Bang Cinematic Percussion," both of which are great starting points for finger drumming. Even if someone has several drum sample libraries and virtual drum modules on his or her virtual instruments shelf, both Big Bang libraries are valuable contributions to a music production setup.
Both libraries together contain roughly 27 (in words: twenty-seven!!) gigabytes of drum samples, organized in several hundred ready-to-use drum set/percussion set presets, usable for all common genres of music. The drums and percussions were sampled with several velocity layers and programmed using round-robin. Both prevent the dreaded "machine gun effect". Moreover, both Big Bang sample libraries come with a function to effortlessly midi-map drum notes. This makes it easy to quickly tap into the broad range of drums and percussions that can be found in these two libraries.
If bought separately, Big Bang Universal Drums costs about US$ / € 99 and Big Bang Cinematic Percussion costs about US$ / € 199. As far as I was able to find out, AKAI really put the full version of both sample libraries into the MPD218 software package. I think that's an amazing value for the money.
Ableton Live Lite can be downloaded from the Ableton website with the provided license code. All other software that comes with the AKAI MPD218 needs to be downloaded from the AKAI Professional website. A user account needs to be created and then the serial number of the MPD218 needs to be registered. Afterward, the software can be downloaded and activated. Please note that both Big Bang libraries require an iLok in order to be activated.
The MPD218 Software Editor
The AKAI MPD218 software editor is a big improvement compared to the legacy MPD 18 editor. It is almost self-explanatory. Whenever you touch a control element on the software GUI, which tries to resemble the hardware device, the blue LCD-like display section in the upper part of the GUI reflects this control element's settings at a glance.
The interesting "auto-populate" feature of the AKAI MPD218 editor lets you change parameters for several pads and knobs at the same time. This can be a huge time saver if mass changes are needed often.
Please note that you don't have to program the XpressPads finger drumming layouts for your AKAI MPD218. You can download the presets for free.
Conclusion
The AKAI MPD218 is a quantum leap compared to the legacy MPD 18. If you watch my recent video which covers "the best drum machines for finger drumming with the XpressPads technique" you'll notice that I was everything but convinced of the legacy AKAI MPD pad controllers (MPD 18 / 26 / 32). That was due first of all to the pad sensitivity issues that I had with the legacy series, and also to the big knobs and sliders of the MPD 26 and MPD 32 (which were always in the way when playing finger drumming with certain hand postures).
The new MPD2-series has completely changed my mind. I haven't yet touched the MPD226
and the MPD232
, but I strongly believe that these are equipped with the same excellent pad section that the MPD218 has and that's 90 percent of what's important for me when it comes to finger drumming. The knobs and sliders layout on the MPD226 and the MPD232 look like they will not be in the way when finger drumming on these devices. That's why I strongly believe I can also recommend these other two members of the new MPD2-family. It might just be a question of additional MIDI control elements requirements (number of additional knobs and faders) and whether or not an (LCD) display is needed on the device. I personally don't need an LCD display as I play finger drumming with just a few different XpressPads pad layouts. Finally, your budget might also be a purchase decision factor.
For a street price of US$ 99 / €99 the AKAI MPD218 is probably the most attractive pad controller currently available. The pad section so thoroughly convinced me that I would say that it alone is worth the money. At this price point, the AKAI MPD218 is also ideal for finger drumming with two pad controllers, because this is where the real fun begins. The XpressPads Core Program contains a whole section on how to play finger drumming with two pad controllers.
The AKAI MPD218 is not just another pad controller that was thrown on the market in order to keep an existing product line alive. Compared to its predecessor it is not evolution – it's a revolution, completely re-designed and massively enhanced. To me, it is a game-changer and in its price range one of the best pad controllers made in the last few years. Given the fact that it has a superb pad section and comes with such a big and well-targeted software package, I'd even proclaim that it has no competitors in its price range. It's an amazing product that provides tremendous value for the money.
Interested in the MPD226 or MPD232? – Please read these video-packed reviews:
P.S.
If you'd like to offer feedback on this AKAI MPD218 review, use the "comments" section below or the video commenting functions on YouTube or Google+. We're interested in your thoughts and your experience.
If you found this AKAI MPD218
review and the video tutorials helpful and consider purchasing the product, we'd appreciate it if you'd use the below Amazon link. It does not cost anything additional, but that action helps us keep up the work that we do in order to bring finger drumming to the people. Many thanks in advance!