Content
Introduction
The AKAI MPD226
is the mid-size pad controller of AKAI's new pad controller series MPD2. It has little in common with its predecessor, the MPD 26 and that's good. AKAI has done a great job with the MPD226. It's not a modification of an existing product; it is a complete re-design. It looks very modern and offers many improvements in comparison to the MPD 26. AKAI's product website claims that they listened to existing customers of the MPD1 series in order to make its successor, the MPD2 series, better… and I think they really have done so!

The pad section
The most important area of a pad controller for me as a finger drummer is the pad section. If this part is OK, then 90% of the deal is done. So, how are the pads of the AKAI MPD226? These thick rubber pads are fantastic! Instead of trying to improve the pad section of its predecessor MPD 26, AKAI has made the best decision: they equipped the MPD226 with the pad section of their flagship groove production studio, the MPC. These pads have incredible pad sensitivity and feel great when touched or hit. They are pressure-sensitive which means that they can be configured to send aftertouch information in order to control effect parameters of connected software or hardware devices.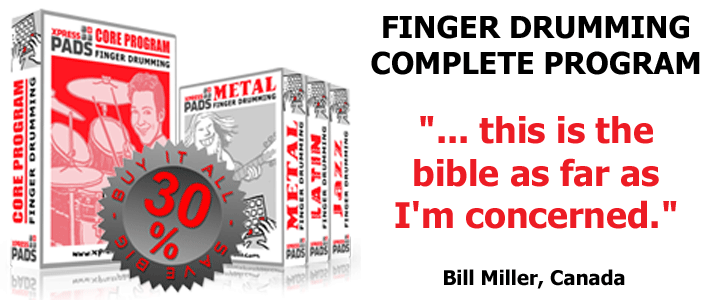 The pads are back-lit, and the color of the backlights can be changed. The mechanism also offers different colors for the on- and off-state, which means custom setups can be created. Also, the color-coding can help when playing the device in dark environments, like when playing a gig. If this feature is not desired it can be completely turned off.
Although I think that the pad sensitivity of the MPD226 is great by default, it can be adjusted. There are three global controls that affect the pad sensitivity: threshold, gain, and curve. Threshold defines the minimum value with which the pads need to be hit in order to trigger a note. Gain defines how much a triggered note is amplified by the device. Curve provides six different velocity conversion curves: linear, s-curve, two exponential, and two logarithmic curves.
If there is one downside to the pads, I'd say it's related to dust sensitivity. Maybe it's the kind of rubber that the pads are made of or maybe it's just that the MPD226 I currently play on is still very new, but it collects dust like no other pad controller that I own. But if that's the price for having such great pads, it's a pleasure to pay.
For each preset, four pad banks are available. One button lets you toggle through the different banks.
The control section
The MPD226's control section consists of four endless encoders (knobs), four faders, and four buttons. All these controls can be assigned freely to common midi parameters. For most basic applications this number of controls should be sufficient. If not, there are three available control banks that can be toggled through by clicking the control bank button.
The control section is placed reasonably far away from the pad section. That's important when playing finger drumming with certain hand postures on the device. You don't need to worry about knobs and faders that get in your way during performances. That was one big problem for me with the MPD226's predecessor, which has big knobs placed right next to the pad section. With the MPD226 you no longer need to worry about this. Due to the placement and the smaller size of the controls, you can now play the pads effortlessly under all circumstances.
Next to the common midi parameters that can be assigned, the four buttons also can be configured to send keystrokes and keystroke combinations. That's a very handy feature as it means that common keyboard shortcuts can be saved on the device and are triggered by just clicking a button. Nice!
The software package
The software package of the AKAI MPD226 is amazing. If bought separately, these applications would cost about US$ 400 total. The software package contains MPC Essentials, AKAI's groove production studio software for starters as well as Ableton Live Lite. That these two pieces of software are included might not be a big surprise. MPC Essentials is a software made by AKAI and Ableton Live Lite is included with many other music production hardware devices as well. However, there are two more applications included that really grabbed my attention: SONiVOX Big Bang Universal Drums and Big Bang Cinematic Percussion. These two SONiVOX libraries are a great starting point for finger drumming.
Big Bang Universal Drums is a virtual drum kit library, including seven drum kits that were recorded with multiple velocity layers. To prevent the "machine-gun-effect," these samples were programmed in round-robin mode.
Big Bang Universal Percussion is a virtual percussion library that is organized in mood- and environment-categories. This should make it easy to get started with percussion. However, there is an additional way to work with this library. SONiVOX has placed all samples that are contained in this library into an open file structure, which means that if you are searching for specific percussion drum sounds, you can do so by just going into the file backend of the plug-in and assemble your own percussion kits as you like.
Both Big Bang libraries share many software controls. One of the biggest and handiest advantages is the MIDI learn function, which lets you assign drum sounds to the MPD226 in almost no time. Other software controls, however, seem less vital and don't work smoothly, such as changing effects output slot numbers. Also, the browser could be improved. Anyway, with 27 (twenty-seven) gigabytes of sampled content and the huge arsenal of high-quality drum sounds that you get with these two drum sample libraries, the highlights outperform the drawbacks.
The editor software
The editor software of the MPD226 is a little masterpiece. Its user interface resembles the hardware and it is intuitively editable. The reason why I like the editor software so much is that it contains some useful tools with which mass changes to multiple parameters can be performed at the same time. This "auto-populate tool" allows me to select main and sub-sections that can be updated mass-update. If, for example, you want to erase the aftertouch from each and every pad on each bank of a preset, the task can be done easily by just checking a few boxes and then clicking the apply button.
Furthermore, the MPD226 editor software offers a feature that allows uploading several presets to the hardware simultaneously. The respective preset files only need to be selected for the preset slots they will be available on after upload, and then all presets can be uploaded at once. That's particularly helpful if you want to play finger drumming with the XpressPads layouts, which you can download for free here.
On-board editing
While the editor software makes possible efficient altering of all parameters of the MPD226, it is also possible to edit parameters right on the hardware by using the edit mode. The editing menu is well organized and the LCD display in combination with the rotary knob/button and the arrow buttons make editing parameters simple and intuitive. When in edit mode the control that was moved or the pad that was touched the last time will be "in focus" on the LCD display, and all its available parameter settings are just a few steps away.
Global parameters can also be changed easily by pressing the global button. Global parameters are things like the pad sensitivity, MIDI channel, MIDI-to-din (sending MIDI notes to the physical MIDI output jack), the tap tempo button behavior, and timing settings.
Expandability
Another advantage of the AKAI MPD226 lies in its expandability. The MPD226 is designed in a way that it can be placed right next to an MPD218. Both pad sections will be positioned so close to one another that it is easy to play finger drumming on both with the XpressPads Xtreme layout. Since both share the same great pad section, the feeling when hitting the pads will be the same on both devices. This is an inexpensive way to expand a finger drumming setup from one to two pad controllers. We have prepared the respective XpressPads presets for both the MPD226 and MPD218 to get you started with finger drumming on two pad controllers right away.
This design compatibility within the AKAI MPD2 series might be incidental or part of a bigger plan; for me as a finger drummer – who loves and teaches playing finger drumming on two pad controllers – this design is just ideal.
Conclusion
The MPD226 is a great pad controller. The pad section is fantastic. The software package is great. The editor software is a masterpiece. The MPD226 can be expanded easily by adding an MPD218 to the setup. The bank management for both the pad section and the control section enhances the value of each preset even more. There are no negative things that come to my mind to share here: really, nothing.
I have tested them all: The MPD218
/ MPD226
/ MPD232
. This whole product line is such a feature-rich, well-designed group of pad controllers at an affordable price that I believe it will be a big success for AKAI Professional, and a well-deserved success.
By the way… the AKAI MPD226 can also be used with mobile iOS devices. This requires the camera connection kit which needs to be bought separately.
If you are interested in the MPD218 or MPD232, please read these two video-packed reviews:
P.S.
If you'd like to offer feedback on this AKAI MPD226 review, use the "comments" section below or the video commenting functions on YouTube or Google+. We're interested in your thoughts and your experience.
If you found this AKAI MPD226
review and the video tutorials helpful and consider purchasing the product, we'd appreciate it if you'd use the below Amazon link. It does not cost anything additional, but that action helps us keep up the work that we do in order to bring finger drumming to the people. Many thanks in advance!