What's NI Studio Drummer?
"Studio Drummer
" is Native Instruments' 3-pack of general-purpose acoustic virtual drum kits. All three virtual drum kits have been sampled in great depth and with serious attention to detail. Up to 25 velocity levels per kit piece transport the realism of these drum kits into the virtual world of drum track production.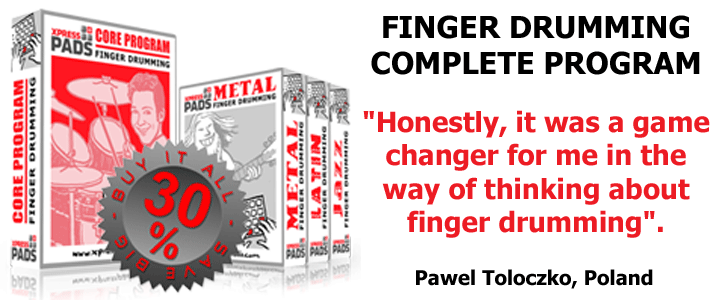 Only the highest quality drum kits have been used to create NI Studio Drummer:
a Pearl Masters Premium Maple kit
a Yamaha Maple Custom Absolute kit
a Sonor SQ2 Drum System

In the application, the above kits have been labeled "Garage Kit," "Session Kit," and "Stadium Kit."
With a total of 17 gigabytes of drum sample content for all three virtual kits, NI Studio Drummer is smaller than Native Instruments' Abbey Road Drummer virtual drum kit products that share the same platform. However, there is no audible difference in quality as far as I can tell.
NI Studio Drummer requires "Kontakt," Native Instrument's flagship sample engine, or "Kontakt Player." The latter can be downloaded from the Native Instruments' website as part of the free "Komplete Players" software bundle.
NI Studio Drummer is a great virtual drum kit for finger drumming with the XpressPads technique. As this review tries to assess NI Studio Drummer from the perspective of a finger drummer, I won't delve into any performance-related features such as the grooves page or controls that are deemed to "humanize" these grooves. As a finger drummer, it is daily practice to PLAY drum grooves and fills that come to mind in realtime on a pad controller, rather than picking MIDI drum groves from groove libraries.
Since NI Studio Drummer and NI Abbey Road Drummer are based on the same platform (and I don't like to publish duplicate content), I'd kindly ask that you go ahead and read the NI Abbey Road Drummer review that I have recently published on this blog. It includes sections about sound quality, usability, workflow, and shaping sound.