Introduction to Stylus RMX Drum Kits
Many people with experience making computer-based music will surely know Spectrasonics' loop-based groove production flagship Stylus RMX
. It has been on the market for about a decade and has been a great success for Spectrasonics, known for producing top-notch virtual instruments such as the "power-synth" Omnisphere and the "total bass module" Trilian.
While Stylus RMX is an outstanding groove-making, groove-shaping, and groove-layering tool, many people don't know that it can also be used as a virtual drum kit. Just follow the following steps and you can start finger drumming with Stylus RMX drum kits!
For a brief tutorial on using Stylus RMX drum kits, watch this video:
The Presets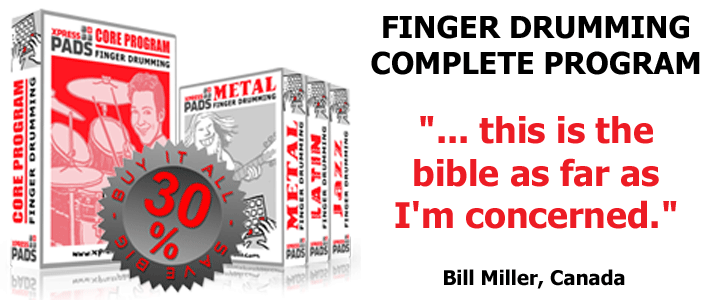 Once switched to "kit" mode, Stylus RMX will unfold its vast factory preset library of well-assembled virtual drum kits. Although less useful for acoustic drum performances, Stylus RMX's drum kits are perfectly designed for electronic and experimental music productions. Users will notice that there aren't many velocity layers for the kit pieces here, which is why I see little use for Stylus RMX in music productions that require a drum kit performance that sounds authentic. But its results don't have to sound realistic. For that requirement, you should turn to virtual drum modules like Addictive Drums
, EZdrummer
, Superior Drummer
, BFD
, Groove Agent
, and the like. For electronic and experimental drums, Stylus RMX drum kits offer a wide assortment of presets and tweaking options.
The factory presets are categorized into folders so that you know immediately which set of presets works best for aggressive music, sound design, electronic or retro music, just to list a few options. It is inspiring to just survey the different presets and play a couple of different finger drumming grooves on each, immediately testing which kind of rhythm or groove will sound good with any given factory preset.
And it does not end there. Next to the standard options of a mixing console, there is access to a studio-quality effects arsenal that can be applied in both insert and send mode. Each of the 8 kit piece slots is independently controllable. If that's still not enough to convince you, note that it is also possible to exchange each and every kit piece with another from the Stylus RMX sound banks. It is completely flexible. This setup lets a person get way beyond the standard effects, making Stylus RMX drum kits invaluable for experimental drumming.
Conclusion
Stylus RMX is really a mature software instrument, but it is still useful as an application for electronic and experimental drum sounds. The huge number of included drum sounds, the massive factory preset library as a starting point for experimentation, the features to exchange, manipulate and lay effects on each or all kit pieces make Stylus RMX drum kits indispensable.
If you already have Stylus RMX on your virtual shelf of plugins – lucky you! Just get reacquainted with it and find all the gems that it has to offer.
P.S.
If you'd like to offer feedback on this Stylus RMX virtual drum kit review, use the "comments" section below or the video commenting functions on YouTube or Google+. We're interested in your thoughts and your experience.
If you found this Stylus RMX
virtual drumkit review and video tutorial helpful and consider purchasing the product, we'd appreciate it if you'd use the below Amazon link. It does not cost anything additional, but that action helps us keep up the work that we do in order to bring finger drumming to the people. Many thanks in advance!