Contents
Update 2016-12-04: Please check out this awesome MIDI converter script for Ableton Live. It is a huge time saver, super-easy to set up, and works with Ableton Push 2 & 1, and with Novation Launchpad Pro & MK2.
+++
What Is The Novation Launchpad?
Novation Launchpad For Finger Drumming And The "Magic Tone Network"
No More Automap For The Next Gen Novation Launchpads
The Legacy Novation Launchpads Are More Useful To Me Than The Next Gen Novation Launchpads
What is the Novation Launchpad?
The Novation Launchpad
is Novation's flagship launch controller for "Ableton Live
". At the end of 2009, Novation released this 64-pad controller, and back then it was a revolution in the way hardware was used to control computer-based music performances in real-time. The main transport and launch controls that Ableton Live offers were linked to the Novation Launchpad in a way that allowed this small, simple device to fulfill a multitude of musical performance tasks by offering quick access to different modes of operation. In the following years, Novation launched a few revamps of the original Launchpad, such as the Launchpad Mini
and the Launchpad S
. In 2015, however, the next generation of Launchpads entered the market, and those were quite different from the legacy Novation launchpads, arguably adding both improvements and limitations.
Related: Watch the 100 percent free video tutorial series for the Novation Launchpad: the Magic Tone Network technique!
Novation Launchpad & Automap
While the Launchpad was a quantum leap for performing computer-based music live, back then Novation also made its 64 pads available for custom midi layouts so that users were able to create their own note and controller mappings for the device. For that purpose, and also in 2009, Novation released an application called "Automap". Automap works like an interface between the controller and the DAW to which it is connected. Automap "reads" the pads that are pressed on the device and turns this data into anything the user wants it to be. There are basically two modes of operation in Automap: a "MIDI mode" and a "control mode". In MIDI mode Automap turns the incoming data into (user-defined) midi notes. In control mode, Automap can link different pads to different user-defined knobs, buttons, and faders of music software applications, such as DAWs and plug-ins hosted within DAWs. To make this possible, the user needs to let the Automap software to first scan his or her plugin library and then "wrap" each plugin to be controlled via Automap into a specific Automap plugin format.
While the control mode is great for using the Novation Launchpad as a plugin- or DAW-controller, the MIDI mode is the one that needs to be targeted when trying to use the Launchpad for special note layouts.
Novation Launchpad for finger drumming and the magic tone network
Here emerges the question about how useful the Novation Launchpad is for applications other than Ableton Live. I have picked two examples that are important to me:
How useful is it for finger drumming with the XpressPads Finger Drumming Technique?
How useful is it for playing melodies with the XpressPads Magic Tone Network Technique?
No more Automap for the next-gen Novation Launchpads
While Novation has put much energy into enhancing the user experience when working with Ableton Live with the Launchpad Pro and the Launchpad MK2, they have completely neglected the fact that some users didn't use the legacy Launchpad with Ableton Live (like myself) and thus completely relinquished Automap! I was really confused when I figured that out. Automap is such a great application to make the Launchpad a control "weapon" for any application that supports MIDI (basically every DAW on the planet), so I really don't understand why Novation narrowed down the target group to mainly (or solely?) using Ableton Live. To be fair: They have made possible the programming of the next-generation Launchpads, but these days doing so requires coding skills, which many people simply don't bring to the table. I don't understand why Novation made it so complicated for their customers to use the Launchpad with other applications with their 2015 releases.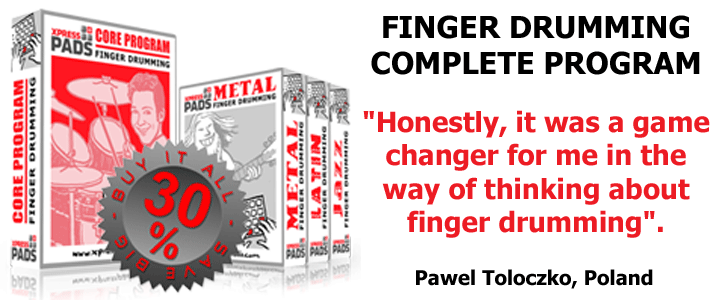 For me, as a finger drummer and user of the Magic Tone Network technique, I am more interested in creating custom mappings on the Launchpad Pro / MK2 / Mini MK2 than in better materials used, pad sensitivity, and improved LED lighting. For me, those improvements are meaningless if I can't use the devices in custom modes.
In a nutshell: I see the next-generation Launchpads as Ableton Live controllers. If other DAW manufacturers develop their own control standards for the new Launchpads, the next-generation Launchpads might be useful for those DAWs as well. However, for regular customers without programming skills—those in need of custom mappings to get more creative, the new Launchpads are "closed systems".
The legacy Novation Launchpads are more useful to me than the next Gen Novation Launchpads
This leads me to a dissatisfying conclusion: the Launchpad Pro, Launchpad MK2, and Launchpad Mini MK2 are not useful for finger drumming with the XpressPads Finger Drumming technique and also not useful for the XpressPads Magic Tone Network technique.
This being said, what about the legacy Launchpads? To follow are a couple of considerations:
Automap makes it possible to create custom mappings. That's awesome! Any special note layout can be created.
The pads are not velocity-sensitive. That's a limitation, but not a deal-breaker. It just makes it impossible to play at different dynamic levels in real-time. Performances need to be tweaked after recording.
The pads aren't really pads like known from regular pad controllers, where slight touches trigger a note. The legacy Launchpad pads are rather buttons that need to be pressed. That's not really a limitation, but it makes it a bit more difficult to play with relaxed finger postures. The strength needed to press the buttons (pads) is higher than needed when playing regular pad controller pads.
The small size of the 64 pads requires far more precision when playing with pad controllers that offer regular size pads. The faster the tempo of the performance, the more difficult it is to hit the right pads.
What does that mean if a person intends to use the legacy Novation launchpad for finger drumming with the XpressPads Finger Drumming technique?
Honestly, I cannot recommend that. For finger drumming, two things are crucial: pad sensitivity and the possibility to play the pads ergonomically. Neither is really possible with the legacy Novation Launchpads.
What does that mean if a person intends to use the legacy Novation Launchpad for playing melodies and chord progressions with the XpressPads Magic Tone Network technique?
I recommend doing this. I currently don't know any other 64 pads pad controller on the market that offers the flexibility of the legacy Launchpad due to the availability of Automap. The 64 pads make it possible to cover enough notes to play meaningful musical phrases and extended chord progressions. There are still some limitations involved but those can be solved by using simple workarounds. Such a workaround would be to use an additional midi controller to control velocity, mimic a sustain pedal, control pitch, and apply modulation.
I truly hope that Novation one day will release a firmware update for the Launchpad Pro / MK2 / Mini MK2 that will make it possible to use Automap again. This would provide one big advantage: pad sensitivity. However, I am not so convinced that this will happen, which brings me to the following conclusion:
If you want to apply the XpressPads Magic Tone Network technique then you'll need to use the legacy Novation Launchpad or the legacy Novation Launchpad Mini, and you should apply the above-mentioned workarounds to ensure your playing is more expressive and more fun.