Content
Novation Circuit General Overview
Novation Circuit Feature Overview
Novation Circuit's Limitations
What is the Novation Circuit?
The Novation Circuit
is a stand-alone groove box. It includes a built-in sound engine and speaker for portable use to quickly sketch musical ideas and simply having fun making music. For this purpose it offers a 4-track drum sequencer and two synthesizer sequencer tracks. For each track, up to 8 different sequence patterns can be created and layered on top of one another.
Related: Watch this 45-minute video tutorial series and understand your Novation Circuit inside and out.
During the last ten days I have tested the device in depth and found out a number of interesting things. Here I share my experience with the Novation Circuit.
As a finger drummer I am always interested in new pad-based hardware devices that enter the scene. So, I was excited to find out what the new and controversially discussed Novation Circuit has to offer. Initially I wondered whether or not it is suitable for finger drumming with the XpressPads technique. Quickly I found out that it is not, as there is no way to change the device's pad mappings, but I also found out that it is a nice tool for sketching EDM-oriented musical ideas and shaping sounds easily and without prior musical knowledge and without a computer.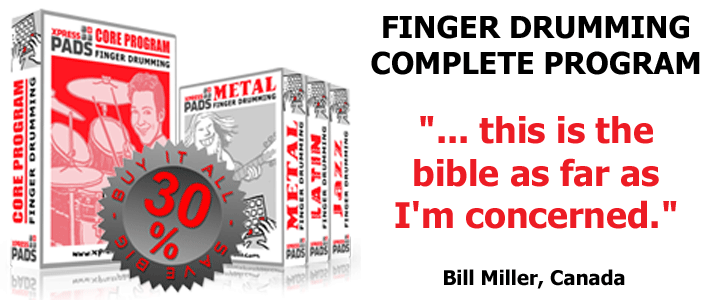 Novation Circuit General Overview
The Novation Circuit looks a bit like a the Novation Launchpad Pro and a bit like other music production studios like Ableton Push, Native Instrument Maschine, and AKAI MPC, but it has little in common with these devices. The Novation Circuit is a groove box and thus follows a completely different and much simpler concept than these other devices.


It comes with a limited number of features and functionalities and forces one to work with just a few tools. Instead of overwhelming a user with numerous sophisticated options and tools, it offers just a few elements to shape music, but those few are most effective. I cannot imagine using it for making professional music, but I have experienced how fun it can be to just jam on it and get inspired by it. Its simplicity gives quick access to sound-shaping and groove-making tools that lets a person develop musical ideas in a very short time.
Novation Circuit Feature Overview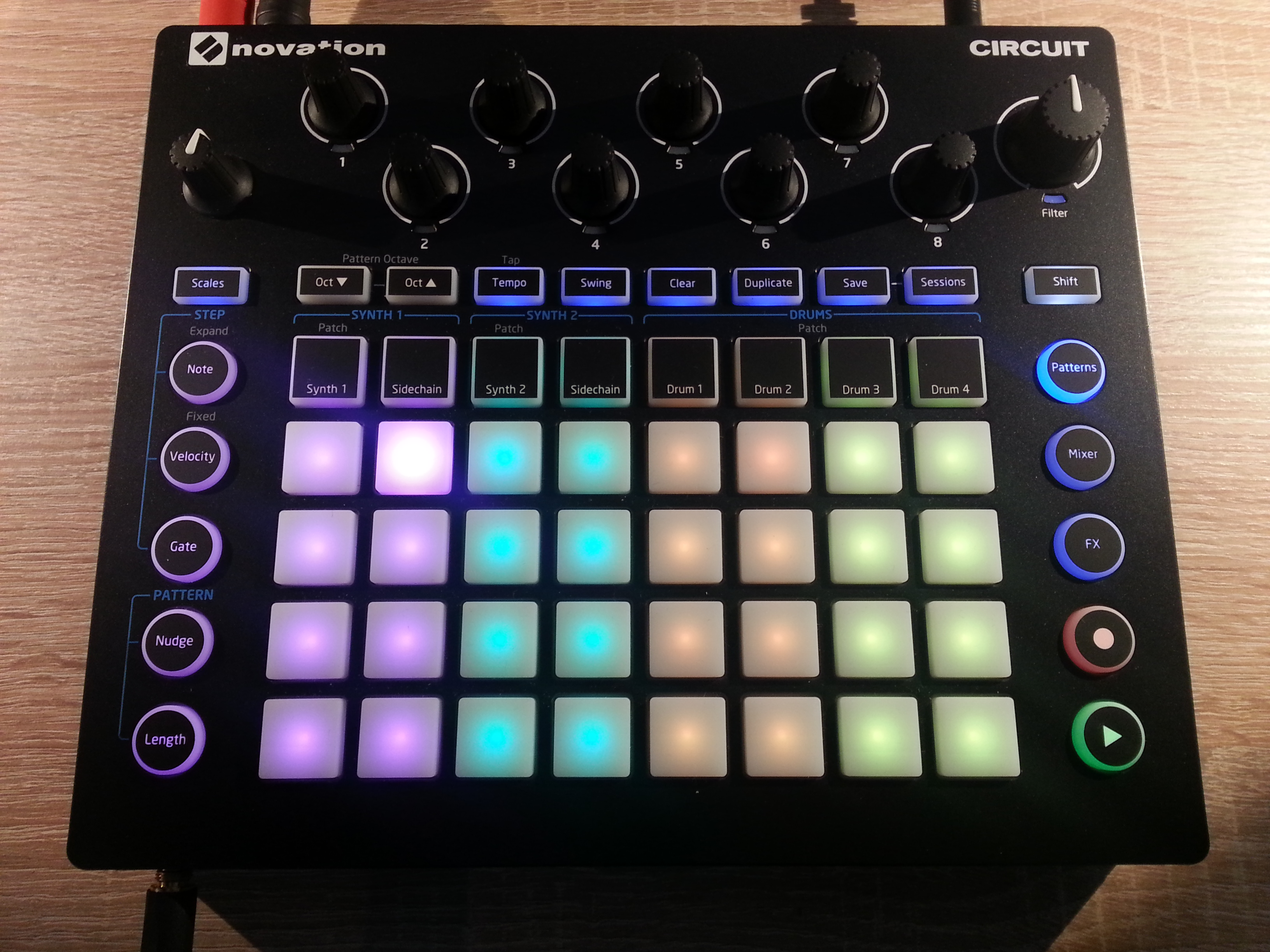 The Novation Circuit contains a 6-track sequencer with 8 patterns per track and 16 steps per pattern. It can be used as a live performance instrument and compositional tool. It produces audio signals via a regular, analogue stereo output and via a headphone output. It requires external power, either via an AC adaptor
or 6 AA batteries
, which allow the device to run for up to 5 hours in stand-alone mode. The included USB-port can be used to send and receive MIDI data. This way the device can be synced to other musical equipment like a DAW and send MIDI data on different channels. Audio is not, though, transmitted via USB.
The most powerful feature of the Novation Circuit is its macro knob section. It lets one control and record parameter movements of the most important sound controls, such as:
In synth mode: oscillators, envelopes, filters, modulators, effects
In drum mode: pitch, decay, distortion, filter
In mixer mode: track volume
In effects mode: track send effect level for delay and reverb
Equipped with quick access to these parameters, the sound of any musical performance can be shaped and changed subtly to quite drastically in real time.
Furthermore, the Novation Circuit offers 16 different musical scales to choose from, including natural minor, major, blues, chromatic, whole tone, and many others. Any tonal events (notes / sequences) can be recorded or edited in up to 12 octaves and up to 6-voice polyphony. An "extended note view" function gives the user good access to entering, viewing, or editing sequences.
The 32 velocity sensitive pads can be used to play drum grooves and synth lines in real time, sequence patterns, select effect presets and sound patches, as well as edit a number of other parameters.
The big filter knob gives access to both high- and low-cut filtering in one instance. Tempo can be changed quickly via tapping the tempo button or turning a knob within a range of 40 – 240 bpm. Also changing the amount of "swing" is a matter of turning a knob.
Up to 32 "session" slots are available to save projects on. Sixteen are occupied by factory presets, but those can be overridden if desired.
Sixty-four synth patches and 64 drum sounds are available as starting points for one's sonic endeavors. Seven side-chain (for synths only), 8 reverb, and 16 delay presets are also available.
Novation Circuit's Strengths
There is no more need to turn on the computer in order to sketch EDM ideas. The device can be taken anywhere to make music. No matter where a person prefers to create music – be it in the park, on the train, on the couch, or in bed – Novation Circuit will be ready.
The included drum sounds and synth patches can be tweaked substantially. Via the eight macro control knobs, the device unfolds its magic and makes every patch an individual experience. The built-in effects help "sweeten" sounds.
Patterns and sessions can be changed in real time and will snap bar-wise in sync with the device's time grid. Almost every element on the device is RGB color-coded and changes color depending on mode of operation. This makes it easy to understand the workflows of the device.
Making music with Novation Circuit is deemed to create "happy accidents" where unexpected sound creations are desired results of playing and experimenting with the device.
Novation Circuit's Limitations
When there is light, there is typically also darkness. When you are interested in buying the Novation Circuit, be aware of the following facts:
A digital audio output is missing.
External power supply is required (and included). No power supply via USB.
All sequences are hard-synced to the time grid, even for those notes played and recorded in real time.
There is no undo-function available. All changes are irreversible.
The closed hi-hat does not stop the open hi-hat sound from sustaining.
Only binary (read: straight) sequences can be created. Those can be 16 steps long, or in the case of the 2 synth engines also shorter. A partial workaround to this is the swing function.
Patches are global. Different drum / synth sounds cannot be used in different patterns.
No sampling function: one can't use his or her own audio files.
No panning function available in the mixer.
When changing a session and current settings / changes haven't been saved before, they're lost.
Pattern chaining needs to happen in ascending chronological order.

Examples of possible pattern chains: 1-8, 1-2, 2-5, etc.
Examples of impossible pattern chains: 2-1-3-2, 1-2-4-1, etc.

Limitation of 8 patterns per track are only useful for very short musical ideas / songs
Sessions cannot be backed-up on a computer or other medium.
Some sounds sometimes keeps sustaining (or hanging) when the device is stopped.
Changing patch sounds while in "play mode" sometimes creates audible glitches.
When turning on or off, the Novation Circuit produces an unpleasant and loud click sound on the headphones output.
Conclusion
Working with the Novation Circuit is like painting a small picture with a big brush and only five colors.
The device sets a narrow framework for one's creative endeavors, but this particular trait can enhance the musical experience. Instead of spending lots of time sophistically shaping sounds to the most detailed level, the device forces a musician to focus on the most effective tools and use them to their full extend and capabilities.
In some ways, though, I believe that simplification, limitation, and downsizing of options and features have been driven quite far in some aspects of the device.
Also, the initial price tag in October 2015 stands at about US$ 330. That's about the price one would pay for a Novation Launchpad Pro
, Maschine Mikro
, or MPC Studio
as well, and with those devices one gains access to many more functions and sounds, as well as professional music production workflows. Despite all limitations, the Novation Circuit is fun and easy to play and might be the right tool to boost one's creativity.
P.S.
If you'd like to offer feedback on this Novation Circuit review, use the "comments" section below or the video commenting functions on YouTube or Google+. We're interested in your thoughts and your experience.
If you found this Novation Circuit
review helpful and consider purchasing the product, we'd appreciate it if you'd use the below Amazon link. It does not cost anything additional, but that action helps us keep up the work that we do in order to bring finger drumming to the people. Many thanks in advance!