iRig Pads Review
The "iRig Pads
" by IK Multimedia is a small, light-weight pad controller that can be used for finger drumming and to control virtual instruments and effects in software-based music production environments. The device is conveniently USB-powered, thus requires no external energy supply.
The iRig Pads can be taken on the go since knobs and faders can't be removed even when tugged on pretty significantly. This means the components won't fall while being toted around in your backpack during a road trip.
On its surface, the iRig Pads has 16 standard-sized, velocity-sensitive, back-lit rubber pads that also send aftertouch information. The lights indicate the velocity with which you hit the pads: if hit softly, they light up in green. If hit harder, the pad lights turn red. The 16 pads, the fader, two buttons, and three knobs are all editable, so you can freely and creatively assign notes, continuous controllers, and program change messages to every control element.
iRig Pads Review and Editing Video:
Editing Workflow
All available parameter settings for each pad and each control element can be edited hardware-wise via the pad-light-controlled menu workflow. In fact, IK Multimedia provides a clever menu structure. Each menu step label is printed below the pads, and as soon as an option becomes available, the associated pad lights up. That makes you efficient by enabling on-the-fly editing: even when you are in the middle of a music project, there is no need to leave your DAW in order to open editing software. Rather, you can change the hardware settings on the iRig Pads while working on a project in your DAW. In the above video tutorial "iRig Pads Review and Editing," I demonstrate the workflow sequence of changing pad assignments on the device's surface menu structure.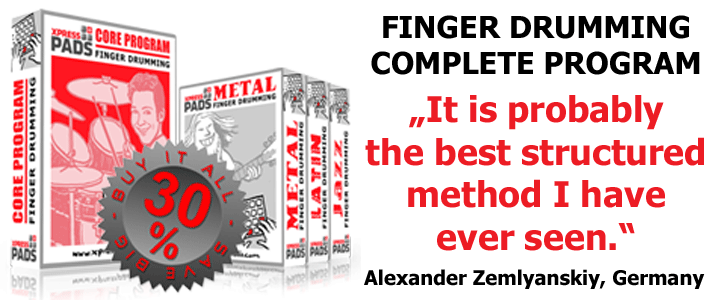 Pad Sensitivity
Although the pads feel good when touched and hit, sit stably within the housing, and are equally balanced from a pad sensitivity standpoint (so all pads seem to have equal pad sensitivity within any given pad sensitivity mode), note that the pads require some hit velocity of the fingers in order to be triggered. This is particularly true if you are accustomed to playing on pad controllers with very sensitive pads, that activate by barely touching a pad to trigger a sound. You WILL likely notice a difference, however, if you are used to playing pads with a firm strike, this pad controller will absolutely meet your needs.
On the iRig Pads, you can choose among three global velocity settings. One is for soft, one for normal, and one for hard velocity. This means that in hard velocity mode, you must strike the pads with some power in order to trigger loud sounds, while in soft velocity mode you need less energy for the same dynamic level. I personally think that three velocity modes are adequate for a pad controller of that kind. In addition, there exists one global button that can be used to switch the pads to fixed velocity, where all pads then generate a fixed velocity value of 100 (on a scale from 0 to 127).
Mobile And Desktop Use
Although I use the iRig Pads on my desktop, it was likely designed for mobile users in mind, as it is relatively small compared to other pad controllers and it weighs very little. The only other pad controller that I know of which has a standard-sized pad section—and at the same time is thinner and weighs less—is the QuNeo
from Keith McMillen. Furthermore, the iRig Pads has a special plug slot for apple data cables, which makes it possible to connect the device to an iPad
, iPhone
, or iPod Touch
. At the time of this iRig Pads review, Android devices don't seem to be supported, which I personally regret.
Included Software
The included software-package contains a couple of full and lite versions of renowned music production programs, such as Sampletank for iOS, Groovemaker 2, and DJ Rig. I have yet to encounter any software options to change the pad and control assignments. While I don't think that an editor software is required given the effective on-surface editing options, it would be a good addition in order to enable users to exchange presets or make mass changes at once.
EDIT 2015-05-18: Software editor has just been released!
Here you can read the full iRig Pads editor review.
Conclusion
In this iRigPads review, the device left a good impression: it is a robust, no-bells-and-whistles, straightforward pad controller that is simple to play and easy to edit. It covers the basic control requirements, which is often the basic foundation for a great music session.
For the price of about US$ 150 / € 120, there is nothing that should hold a person back from testing and buying the iRig Pads, if its design and the overall concept are appealing. Due to its small size and competitive price, consider buying two so that you can play finger drumming with the XpressPads Xtreme finger drumming layout, which requires two pad controllers. The XpressPads Core Program contains a full section on finger drumming with two pad controllers, and from my point of view, this can help you realize your finger drumming dreams.
This pad controller is a valuable addition to the range of pad controllers already available in the market at this particular price point. Particularly for the AKAI MPD 18
, the iRig Pads could become a fierce competitor.
EDIT 2015-07-02: The AKAI MPD 18's successor has just been released: AKAI MPD218
P.S.
If you'd like to provide feedback on this iRig Pads
review and video tutorial, feel free to use the "comments" section below or use the video commenting functions on YouTube or Google+. We're interested in your thoughts and your experience.
If you found this iRig Pads review helpful and consider purchasing the product, we'd appreciate it if you'd use the below Amazon link. It does not cost anything additional, but that action helps us keep up the work that we do in order to bring finger drumming to the people. Many thanks in advance!